By Sandra Stainton

Stepping inside Rinaldo's Italian American Specialties, the authentic, rich smell of fresh parmigiana rushes to meet you at the door to say "Benevento!"
Its presence in the air creates expectations of a rustic Italian country kitchen, cranking out fresh baked bread and crushing ripe tomatoes. The smell of Parmesan isn't the only nod to a heritage of Italian cooking at Rinaldo's; old black and white family photos are blown up and framed on the wall, lending an intimate feel.
Alongside these hints of family tradition, brothers and chefs Sam and Tony Rinaldo have married this old-school Italian heritage to their own American upbringing. Tradition meets modern design with sleek red and black walls and simple décor. A lively and fresh vibe is in the atmosphere, but the crowd filling the room with loud conversation and boisterous enjoyment helps, too.
As we arrived for an early dinner on a Thursday night at the north-end restaurant, there were already a few groups waiting for tables. Luckily, we snagged a great spot looking out one of the large dining room windows onto the patio and Windsor Street.
Our server, Nicole, provided helpful knowledge of the menu and a few laughs throughout the evening. Our foursome's goal was to order a range of different menu items to experience all of Rinaldo's specialties, including their house-made pastas and pizza dough. But first, an authentic Italian meal simply can't be enjoyed without a glass of wine. The drinks menu offered a fair variety of Italian wines, both red and white, and an impressive selection of cocktails. We each had a glass of Luccarello Negroamaro as we considered the menu selections.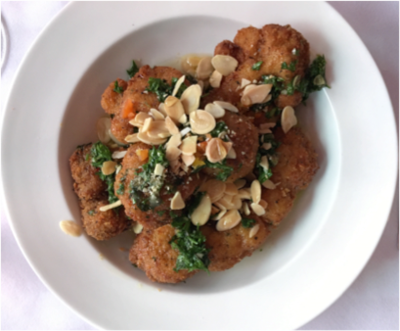 Tender cauliflower florets with a light and crispy breading, a sweet honey coating and blanched toasted almonds. (SANDRA STAINTON)
I decided to save room for what I knew would be a large Italian meal, so I started with the arugula salad. The fresh greens were topped with crumbled goat cheese, candied walnut pieces (the star of the dish) and a light drizzling of oil and vinegar.
The rest of the table shared spicy cauliflower recommended by Nicole as "different but delicious." The tender cauliflower florets had a light and crispy breading with a sweet honey coating and blanched toasted almonds. The cauliflower pieces are also served in a spicy olive oil with a kick, covering all of the flavour bases and making an excellent starter. Finally, upon Nicole's recommendation, the "Italian fries" were a must for the table. Perfectly crisp, the fries were topped with fresh Parmesan and herbs and, of course, roasted aioli for dipping.

More than half of Rinaldo's dinner menu is fresh handmade pizzas, so ordering more than one was an easy choice. I went for the Stefano pizza as recommended by Nicole. It reminded me of biting into a soft and dense freshly baked bagel, especially with the cornmeal crumbs baked in. At the same time, the inner well of the dough holding all of the toppings was crisp and thin like an authentic oven-fired pizza.
This house-made pizza dough certainly hits the mark by bringing together the best of both crunchy and soft. The toppings on the Stefano made it a winning dish with fresh Parmesan, diced tomatoes, grilled onions, rich and creamy ricotta and a sprinkling of fresh herbs. Rinaldo's "clam pie" is also served on a cornmeal crust, topped with fresh grated Parmesan, herbs and, of course, Nova Scotia baked clams. Nicole said that some people find this pizza has too much of a "fishy" taste while others expect to taste the clams more.

The Rinaldo brothers are passionate about offering their guests traditional Italian dishes, made with the ingredients and inspiration their great-grandparents found after settling in the United States.
One dish that spotlights a modern American take on Italian cuisine is the hero sandwiches. Three different versions of the hero are offered on the menu, each served on specially made in-house bread. The chicken parm hero looked spectacular and was deemed "the best 10 bucks you can spend in Halifax" by one of our crowd.
A plated version of chicken Parmesan was also an excellent selection. Served alongside house-made tagliarini aglio olio, each bite of thinly breaded chicken with marinara sauce, fresh pasta and basil was perfect. Unfortunately, there was about a 10-minute wait between the delivery of the pizzas to our table and the arrival of the chicken parm dishes. However, the wait had little impact on our enjoyment of the food, as there was more than enough pizza to be shared.
To me, if there's one thing Italian cuisine does better than rich, carb-filled meals, it's heavenly desserts.
My personal weakness is classic Italian cannolis. The smooth ricotta filling is perfect inside of a fried shell, and Rinaldo's version, topped with sweet chocolate drops and salty pistachios, met my high cannoli expectations.
A chocolate cream pie is the only other dessert menu staple, which moderately pleased the crowd but did not wow. The ultimate show-stopper was the Boston crème doughnut, pillowy soft and squishy, almost melting in your mouth. Spread on top was a caramel-coloured chocolate icing, sandwiching the dough between itself and the sweet custard filling.
Rinaldo's delivered an authentic Italian experience with American-style influences and surely surpassed expectations. Dinner for four, including wine, tax and tip, was $197.
Rinaldo's is located at 2186 Windsor St. and is open Tuesday to Sunday. Phone: 902-425-0400